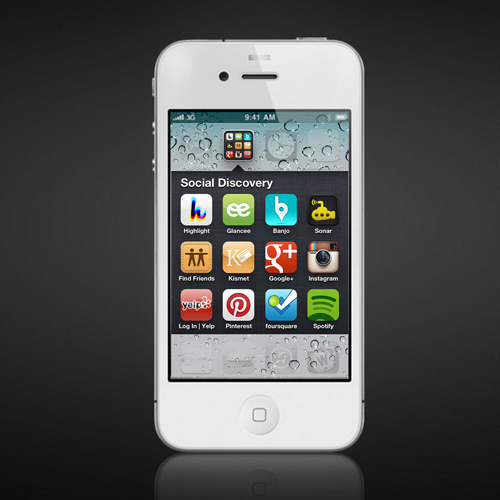 Geolocation Tracking and Privacy Using Social Discovery Mobile Apps
Despite the current buzz about Social Discovery Apps such as Highlight and Glancee, the first geolocation tracking App to get media attention was the iPhone iOS5 Find My Friends Apps. The iPhone App Find My Friends enabled a Husband in New York City to track the location of his Wife (or possibly soon to be Ex-Wife).
(Photo and Source: Gawker.com)
iPhone Find My Friends – How to Disable or Pause
If you are now interested, here are instructions on how to Pause this feature on your iPhone.
1. Click Settings -> Location Services -> Find Friends: Off
2. You can easily Enable this application when you need to use it, and provide individuals temporary access to it.
3. Remember, to Disable or Pause it to avoid any potential privacy issues.

A List of Social Discovery Apps Available on the iPhone
Banjo – (Map, List, Photos, My Viewing History)
Find Friends (All, Temporary)
Foursquare (Friends, Explore, Privacy: phone, email, public list of people checked in, Mayorships, Checkin with Friends, Venue Mangers)
Glancee (Lock Setting to Pause, Not many Privacy Settings)
Google+ (See Privacy Policy on iPhone App and Desktop App)
Highlight (Access my data any time, Pause Highlight Setting, Connection to Facebook Only)
Instagram (Sharing to Twitter, Facebook, Flickr, Tumblr, Posterous, Foursqure; Photos are Private Setting)
Facebook (Facebook Checkin)
Kismet (Connection with Facebook)
Pinterest (Connection with Facebook or Twitter)
Sonar (Uses Foursqure Account)
Spotify (Connects with Facebook)
Twitter
Yelp (Checkins, Connects with Facebook, Twitter, Bookmarks: Private or Public (D), History/Clear History)
How to Pause or Disable Location Services/Geotracking
The instructions differ for each of these applications but in general, you can pause these iPhone Apps by turning off Location Services for each App. Here are some general guidelines:
Location Services – To access the location services on your iPhone for each Social Discovery App (Settings -> Location Services)
Location Services Purple Arrow – Indicates the App is currently using your location.
Location Services Gray Arrow – Indicates the App used your location in the past 24 hours.
Location Services Outlined Purple Arrow – Indicates that the App is using a geofence.
Location Services Off – If Location Services are Off and you click on the App, you will receive a message to Turn the Location Services On. Some Apps will change the setting for you, others will ask you to manually change it.
In General – There are currently not many privacy standards or rules governing these applications. Many have access to your phone address book and some will even ask for access even when you are not using your phone. Therefore, we recommend keeping Location Services Disabled for each App until you need it. You should also regularly review your Location Services for each App or turn them all off as a starting point every several months.
Battery Life – Keeping these Location Services enabled for many Apps will reduce your battery life.
Notification Alerts – Most of thee Social Discovery Apps will need your Setting -> Notifications ->App Name ->Notification Center turned on.
Notification Alert Style – Most require Banners or Alerts.
Notification Center – Badge App Icon: On or Off
Notification Center – Sounds: On or Off  (Sounds work even if the alert is off)
Notification Center – View in Lock Screen (this is a privacy setting)