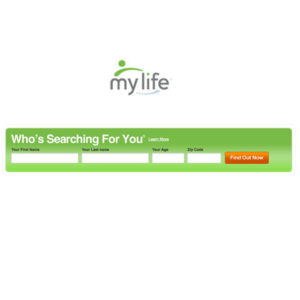 Who's Searching For You – How This Search Works
1. When you enter your name to find out who is searching for you in the above search box, MyLife.com wants to create a free account for you. You will not be able to view this information until you setup an account.
2. After you setup the account, you will receive email notifications that people have viewed your profile.
People Who Viewed Your Profile Notification
3. We signed up for a free account which did not include our credit card, we tested the above feature, and noticed that that the photos under "See who search for you" changed after refreshing our browser.
4. We reviewed MyLife.com's service and privacy policy and noticed the following:
Access to Address Book – By Connecting your accounts to Facebook, Twitter, LinkedIn, Google+, Gmail, Yahoo, AoL and Hotmail, you may authorize MyLife to send emails to your address list.
Guest Searches – MyLife will track the search history eventhough you don't create an account.
Accounts – MyLife will not create an account for you (although to view the data, you must create an account).
Public Profile – MyLife may create a public profile for you based on publicly available data.
Deleting Your Information from MyLife.com
You will need to call MyLife Customer Service at 1-888-704-1900 to delete your public profile from MyLife.com or any of their associated sites. For additional information, see the link below.
Click Here for info on Deleting Your MyLife.com Public Profile or Account