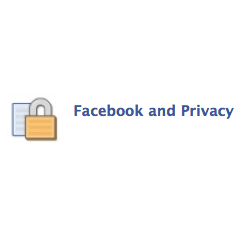 On April 12, 2012, Facebook announced on its Facebook Privacy Page that it began expanding its Archive feature to its 845 million monthly active users. In Europe, 40,000 Facebook users requested a full copy of the data that Facebook has compiled on each of them. Under the European privacy law, Facebook had to comply with these requests.
Facebook Privacy Data Download Feature Announcement
Starting today, you will be able to download an expanded archive of your Facebook account history. First introduced in 2010, Download Your Information lets you get a copy of what you've shared on Facebook, such as photos, posts, messages, a list of friends and chat conversations. Now you can access additional categories of information, including previous names, friend requests you've made and IP addresses you logged in from. This feature will be rolling out gradually to all users and more categories of information will be available for download in the future. Download Your Information is available from your Facebook Account Settings.
Step By Step Instructions
1. Click the account menu at the top right of any Facebook page
2. Choose Account Settings
3. Click on "Download a copy of your Facebook data"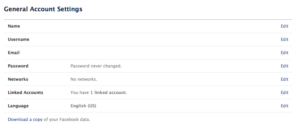 4. Click Start My Archive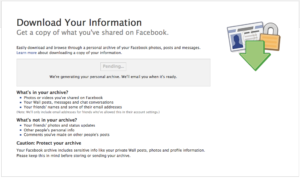 5. You will receive the notification below that your request is being processed.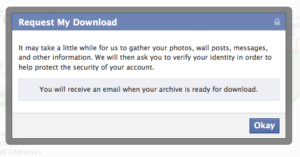 6. In about 3 hours, we received an email that our download was ready. We logged into Facebook using the steps above and re-entered our password.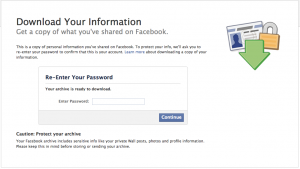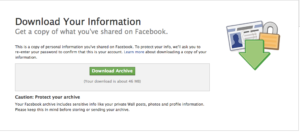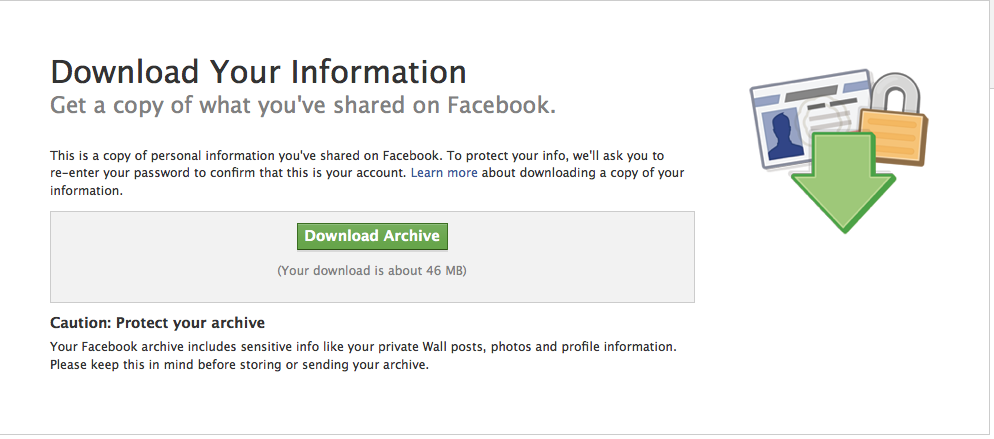 7. Our Facebook Download file was 46.4 MB. It included the 2 folders (photos, html) and 2 files (index.html, README.TXT):
FB-USERID-FOLDER
Index.html – A HTML file allowing you to navigate your Faceboook Data
README.TXT (that date/time the download was created)
photos folder
album (containing all photos for that album)
html folder
style.css
lock.gif
album-AlbumName.html
album-Wall Photos.html
friends.html (list of all friends, and their email address, if pulblic)
messages.html (we found messages in our archive dated back to 2008)
notes.html
photos.html (photos posted to your wall and comments)
photos-me.html (html page only, no photos)
profile.html (your FaceBook profile including Current City, Website, Birthday, Sex, Hometown, Family, Employers, Political Views, Activities, Other, Music, Bio, Groups)
wall.html (all posts you've made to your wall to your wall, including comments from your friends)
8.In the test we ran on April 12, 2012, I do not believe that the Facebook Enhanced Archive Data is included yet. This information will be rolled out gradually to the Facebook User Community. After the initial Download was run, Facebook's tool does not allow you to make a second request. I imagine when the Enhanced Data Archive is available, their tool will allow the second request.
Note: On May 5, 2012, the Facebook Enhanced Archive Data was available!
What's in your archive?
Photos or videos you've shared on Facebook
Your Wall posts, messages and chat conversations
Your friends' names and some of their email addresses
(Note: We'll only include email addresses for friends who've allowed this in their account settings.)
What's not in your archive?
Your friends' photos and status updates
Other people's personal info
Comments you've made on other people's posts
Facebook Enhanced Archive
Your enhanced archive contains additional info about your account, along with data that's logged when you interact with Facebook. This could include:
IP addresses: Any IP addresses we have stored (this won't be all of the IP addresses that have ever accessed your account)

Login info: A list of the logins we have stored (this won't include every login during your account's history)

Log out info: The IP addresses from which you logged out

Pending friend requests: Friend requests you sent and friend requests you received but haven't accepted or denied

Account status changes: Dates when your account was reactivated, deactivated, disabled or deleted

Poke info: Information about the pokes you've exchanged

Events info: Events you accepted, declined, and responded maybe to

Other profile (timeline) info:

The mobile phone numbers you've added to your account

Your city and hometown (whatever is currently listed)

The names of the family members you've listed on your account

Your relationship info (names and statuses)

A list of the languages you've added to your profile

A history of any changes you've made to the name on your account
Sources: NYTimes.com, Facebook.com