After the Randi Zuckerberg Facebook Photo Sharing incident, it appears that most Facebook Users have not properly set their Facebook Privacy and Timeline and Tagging Setting. Here is InternetRemoval.com's recommended Privacy and Timeline & Tagging Settings.
Recommended Privacy Settings
1) Privacy Settings – Settings, Privacy Settings

Who can see your future posts? We recommend you limit your audience for your default setting using the Custom Setting. To do this, you will need to organize your Friends into lists since to Facebook, "Friends" really means "Public Friends". If you haven't done this, see this Facebook article Organizing Your Friends (We recommend creating groups Close Friends, Family, Business, College/High School – a friend can be a member of multiple groups).

Review all your posts and things you've tagged in: Use Activity Log 

Limit the audience for posts you've shared with friends or Public? Limit Past Posts

Who can send you friend requests? You can set this to Everyone to accept Friend Requests from those outside your circle of friends. 

Whose messages do I want filtered to my inbox? Basic Filtering

Who can look you up using the email address or phone number you provided? Friends is recommended vs Everyone or Friends of Friends.

Do you want other search engines to link to your timeline? Off (Google and the other Search Engines shouldn't index your Facebook Timeline)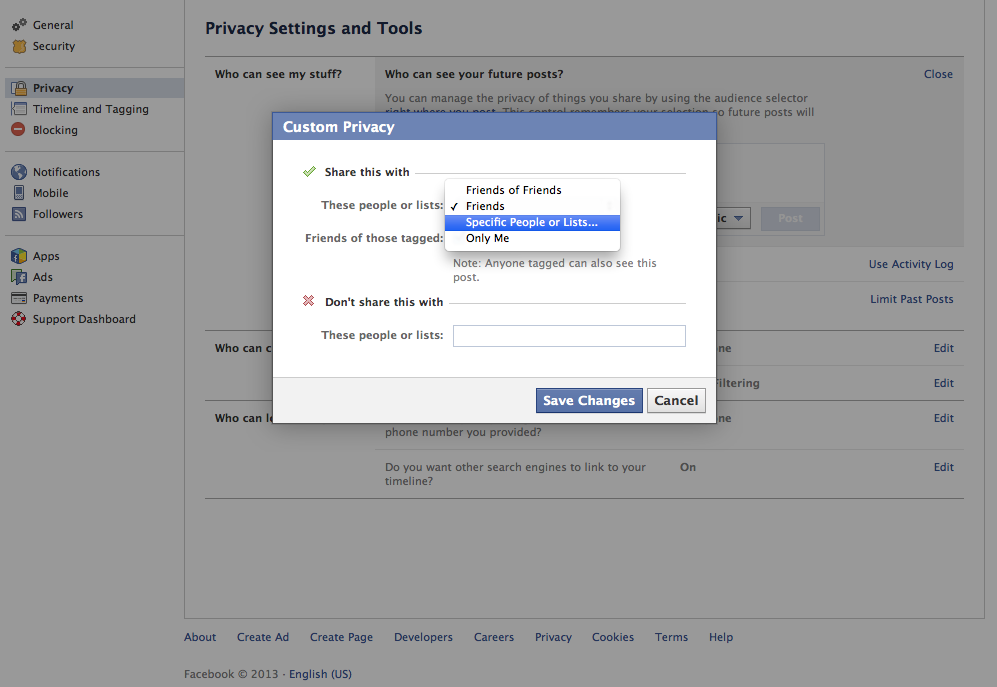 2) Timeline and Tagging Settings
Ensure you change the settings below from Friends or Friends of Friends to the settings below "Only Me".
Recommended Settings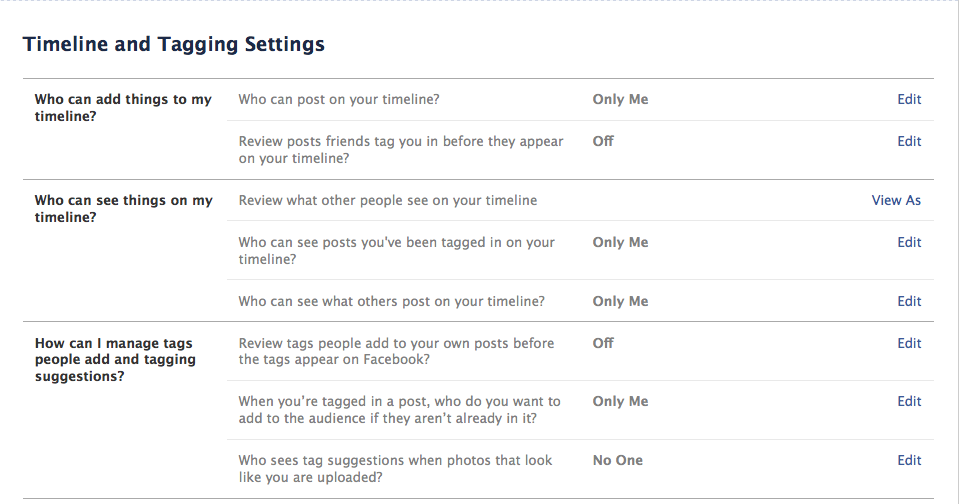 For your information, the default Facebook Timeline Privacy Settings are below.