SchoolFeed owned by Classmates.com acts like a Virus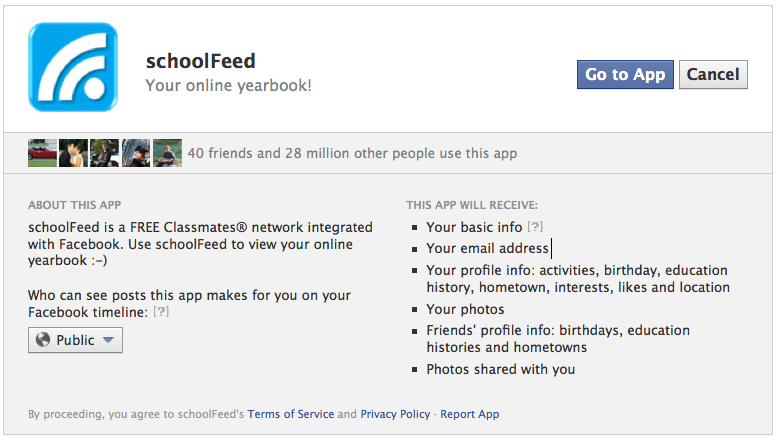 If you get the above screen, do not click Cancel. If you do, it will still act like a virus and post the original SchoolFeed post on your Wall to your Facebook Profile Page.
SchoolFeed, was purchased in 2012 by the owner of Classmates.com. You do not need this application, if you want to see your friends on Classmates.com, go directly to that site. There is no advantage to using SchoolFeed, it is predatory and begins posting your photo on your Friends, their Friends walls. That is horrible unless you want your photo as the poster person for SchoolFeed.
We tried a number of different methods, but the recommended solution is to use the Block apps Facebook feature. After that, you should delete any posting on your Wall or Profile Page. Here are the steps:
1. Go to your Facebook Privacy Settings Page – Use the Down Arrow in the upper right top of your Facebook Profile Page and click Privacy Settings.
2. Under Privacy Settings, click Mange Blocking under Blocked People and Apps.
3. Under Block apps, add schoolFeed to your list of Block apps.