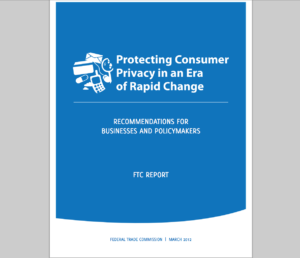 The FTC's Privacy Report,  "Protecting Consumer Privacy in an Era of Rapid Change Recommendations For Business and Policy Makers" was released in March of 2012. Here are some highlights:
5,00 Consumers – Doesn't apply to "companies that collect and do not transfer only non-sensitive data from fewer than 5,000 consumers per year.
Do Not Track – DNT gives users the choice about whether to be tracked by third parties as they move across the web.
Mobile Services – Improved privacy protections and disclosures.
Heightened Privacy Concerns – Comprehensive Track Consumers' Online Activities – The Social Plug-in such as the Facebook Like Button were mentioned.
Right to Correct Inaccurate Data – Just like Credit Reports, American citizens should be able to learn and see what information is held by them.
Data Brokers – These are the companies like Choice Point (acquired in 2008 by Reed Elsevier), LexisNexis and US Search that are used by the People Finder and Background Check Websites. These companies need to make their operations more transparent by creating a centralized website to identify themselves, and to disclose how they collect and use consumer data.
It is now up to Congress to pass new Privacy Legislation.