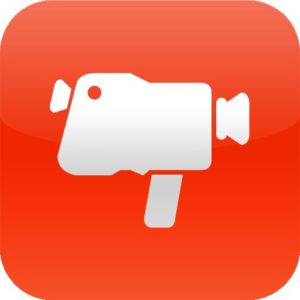 How do I Remove Socialcam from Facebook? – How do I Delete Socialcam

May 15, 2012 Update: The Socialcam Video Sharing App that has seen viral growth in the past several months to over 51 million users. Recently, the Socialcam Auto Sharing feature was automatically re-enabled which caused unwanted Socialcam Videos watched to be shared on Facebook users' walls and with their Friends. Unlike a YouTube video, when viewing a Socialcam Video, the Facebook user is required to add the Socialcam App which accounted for the increase in usage, like a virus. On Tuesday, May 15, 2012, to respond to online privacy issues Socialcam said they revised their program so that it no longer resumes sharing. Socialcam users should check their Auto Sharing Settings in the Socialcam Profile. However, users may feel more comfortable deleting both your Socialcam Account and Removing the App, here are instructions. You can also add the Socialcam App to your Facebook App Block List. Don't forget to remove your Socialcam Mobile App and/or review its settings. Finally, Socialcam has added an uninstall option to the users' Facebook Wall, we didn't use that option because we wanted to ensure our Socialcam App was deleted.

1. From your Facebook Timeline, select Privacy Settings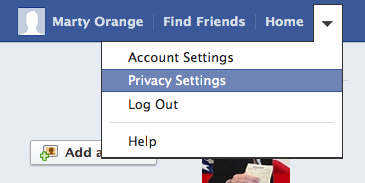 2. Under Ads, Apps and Websites, select Edit Settings

3. Under Socialcam Apps, select Edit Settings

4. Under App Settings Socialcam, select Edit

5. Under App Settings, Socialcam, click on the Socialcam Icon (to delete your Socialcam Account from their site).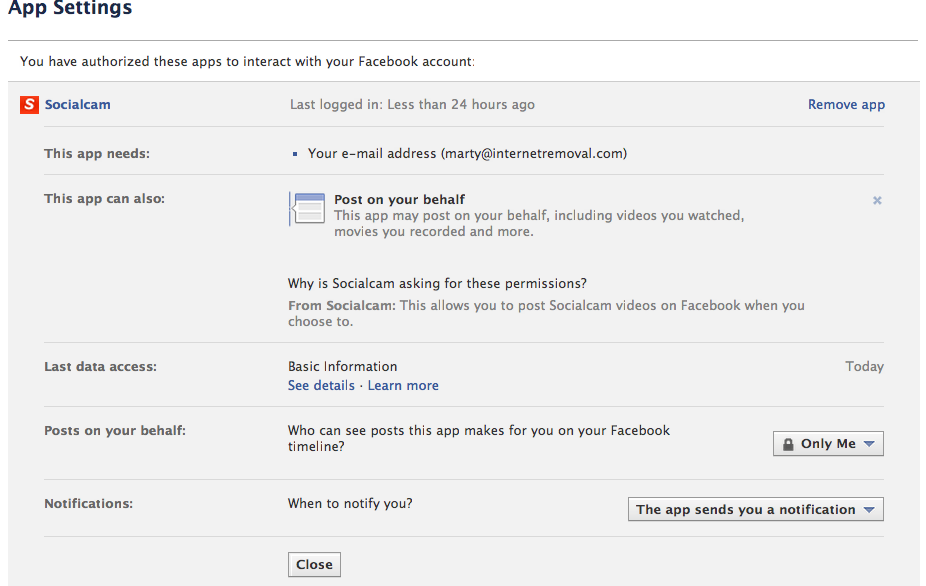 6. From the Socialcam Application Menu, select Settings

7. From the Socialcam Edit my account screen, under Click to change password, at the bottom corner, click Delete my account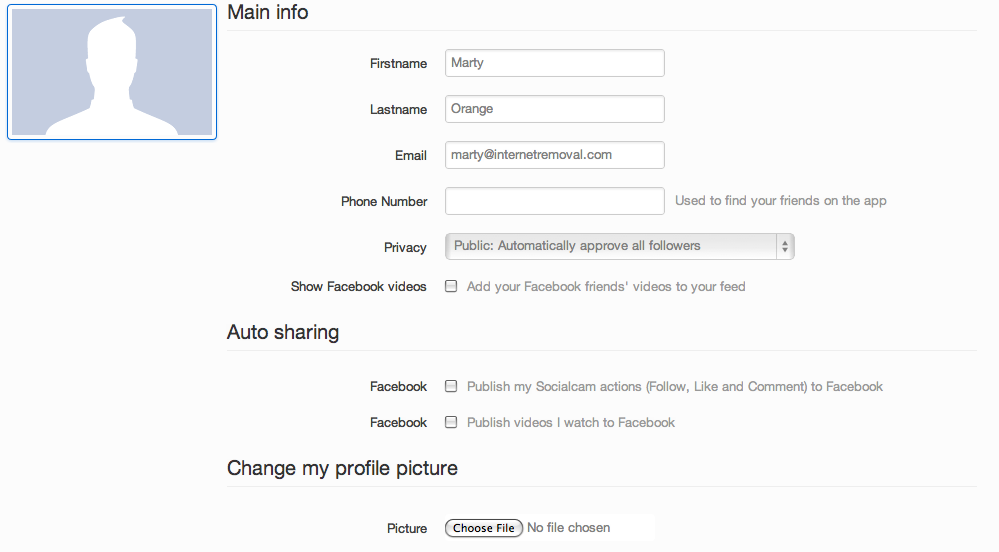 Click Delete my Account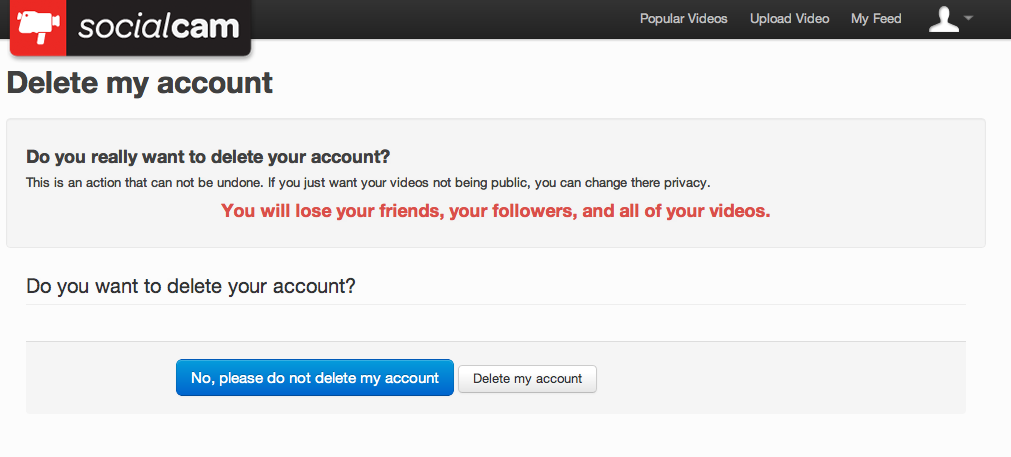 8. Repeat the above steps and in Step 5, click Remove App.
Other Socialcam Removal Notes
Auto Sharing – If you wish to keep your Socialcam account and Facebook App installed, you can remove the Autosharing in Step 7 above. Both of these options were selected as the default settings during installation.
Initial Installation — When you Installed Socialcam, Auto Sharing was enabled.
Initial Installation — When you installed Socialcam, the default setting was to share your videos with Everyone.
How to Block the Socialcam App
Here are instructions for permanently blocking the Socialcam App from your Facebook Account.
1.  From the Facebook Timline Menu, click Privacy Settings.
2. Under Blocked People and Apps, select Manage Blocking
3. In Block apps, enter Socialcam

If you need assistance in removing information off the Internet or other online privacy issues, contact or call us at 1-888-591-9828.